SKIN DISEASES

---
Through Traditional Chinese Medicine, we can help with a variety of skin problems. Dr.Chen received her Ph.D. degree in TCM dermatology from Guangzhou University of Traditional Chinese Medicine, which has the best dermatology institute in China. She grew up with her grandpa, who was the famous dermatologist in Sichuan province. In China, she treated about 60 patients with skin problems every single day, and was successful in treating common skin diseases including eczema, psoriasis, acne, urticaria, vitiligo, resecea, hair loss, shingles and herpes, as well as intractable skin problems such as those caused by autoimmune diseases in America and China. Dr. Chen has done extensive research and developed special cream to treat skin diseases. She also developed special TCM facial rejuvenation protocols. She helped a lot of patients get rid of "incurable" skin conditions, and was named "miracle Chinese doctor."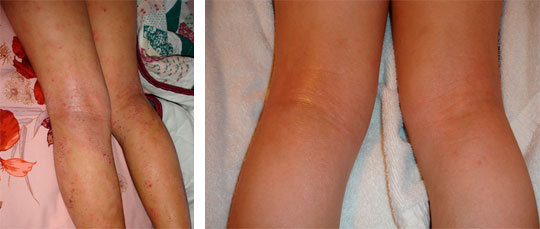 Eczema

---
This is a 9 year old young boy, who suffered from atopic dermatitis for 4 years. He presented with red macules and papules all over his body, especially on his face, neck, trunk, flexor and extensor surfaces of his knees, elbows, hands, legs and feet. Around the ankles, the skin lesions were thickened and cracked with a serum-like discharge; they were extremely itchy and painful. He also had asthma. His parents had no history of eczema or asthma. He was prescribed steroidal cream externally, anti-histamines, prednisone and antibiotics internally, and an inhaler for his asthma. After taking prednisone, his skin lesions were better, but whenever he stopped taking prednisone, the skin lesions flared immediately.
In TCM, the syndrome identification was blood dryness with dampness, so he was prescribed with herbs with the functions to nourish blood and transform dampness. After 2 weeks, there was a big change.
Eczema is the most common inflammatory skin disease. The National Institutes of Health estimates that 15 million people in the United States have some form of eczema. And, about 10 to 20 percent of all infants have eczema. Eczema is characterized by various types of skin lesions including erythema, papules, vesicles or blisters, erosion, oozing, scaling, lichenification, cracks, and usually itching (show pictures). Eczema may look different from person to person. Many substances have been identified as eczema "triggers", from shampoo and jewelry to food and water. Environmental and psychological factors also play a role, and triggers are not the same for every person. Many times it is difficult to identify the exact trigger that causes a flare-up.