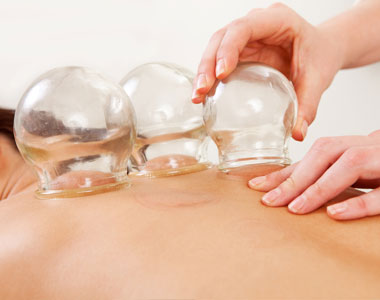 Cupping Treatment
Cupping treatment is very effective to relax the tightness and tension of muscles. It is very popular and used in China to relieve pain. Cupping can also release deep toxins and improve the circulation of energy.
In tradition, Chinese people used clay cups or bamboo cups to perform the cupping treatment. Doctors are boiling the cups in the water to heat them, then place the cups on the exposed skin when they are still hot but tolerable to patients. In this way, it creates suction when the cups are cooling down.
Today, there are many kinds of cups available in the market. The most common forms are made with glass and plastic. They are more economical and see-through during the cupping treatment. The fancy types are made with special stones and even magnets.
With cupping treatment, the local skin may become red or purplish or even bruised. It is very common for these changes after cupping treatment. It is no harm and the skin will be back to normal after a few days.
ACU CARE PLAN (ACP)
Continuous health benefits to maintain
your health in a balanced state
JOIN FOR LESS THAN $50/MONTH
---